The ultimate golf day is just around the corner! We're counting down the days to one of the biggest events in our calendar – the 2023 ICON Golf Day.
This year's event takes place on Wednesday 20th September at The Grove, the iconic golf course situated in the beautiful Hertfordshire countryside.
We're looking forward to welcoming people from all over the country for a day that promises celebrity guests, mouth-watering food and, most importantly, a competitive round of golf.
---
What to expect on the day
The Grove is located just 18 miles from London and we're delighted to bring our famous ICON Golf Day to its beautiful surroundings, which is the former home of the Earls of Clarendon.
Our guests will enjoy exclusive use of the clubhouse and golf facilities at The Grove, as well as a bespoke 18-hole menu from innovative chef Jimmy Garcia. There will be food and drink facilities on every hole, as well as an on-course DJ to keep the party going throughout the day. All you need to do is bring your golf clubs!
Golf professionals will be on hand to offer coaching tips to our guests, who will have access to the driving range and putting green to put their new skills into practice.
Keep your eyes peeled for celebrity appearances and 'beat the ICON' competitions, as well as plenty of other opportunities to win prizes. Including our hole-in-one hole.
On our ICON Golf Day at The Grove in May 2022, we saw an unbelievable hole-in-one which saw our guest pick up a brand new car. It was his first ever hole-in-one and what a time to do it, on our specifically designated prize hole.
It was a euphoric moment on the course and one that he and we will never forget. Fancy your chances at bagging an ace?
---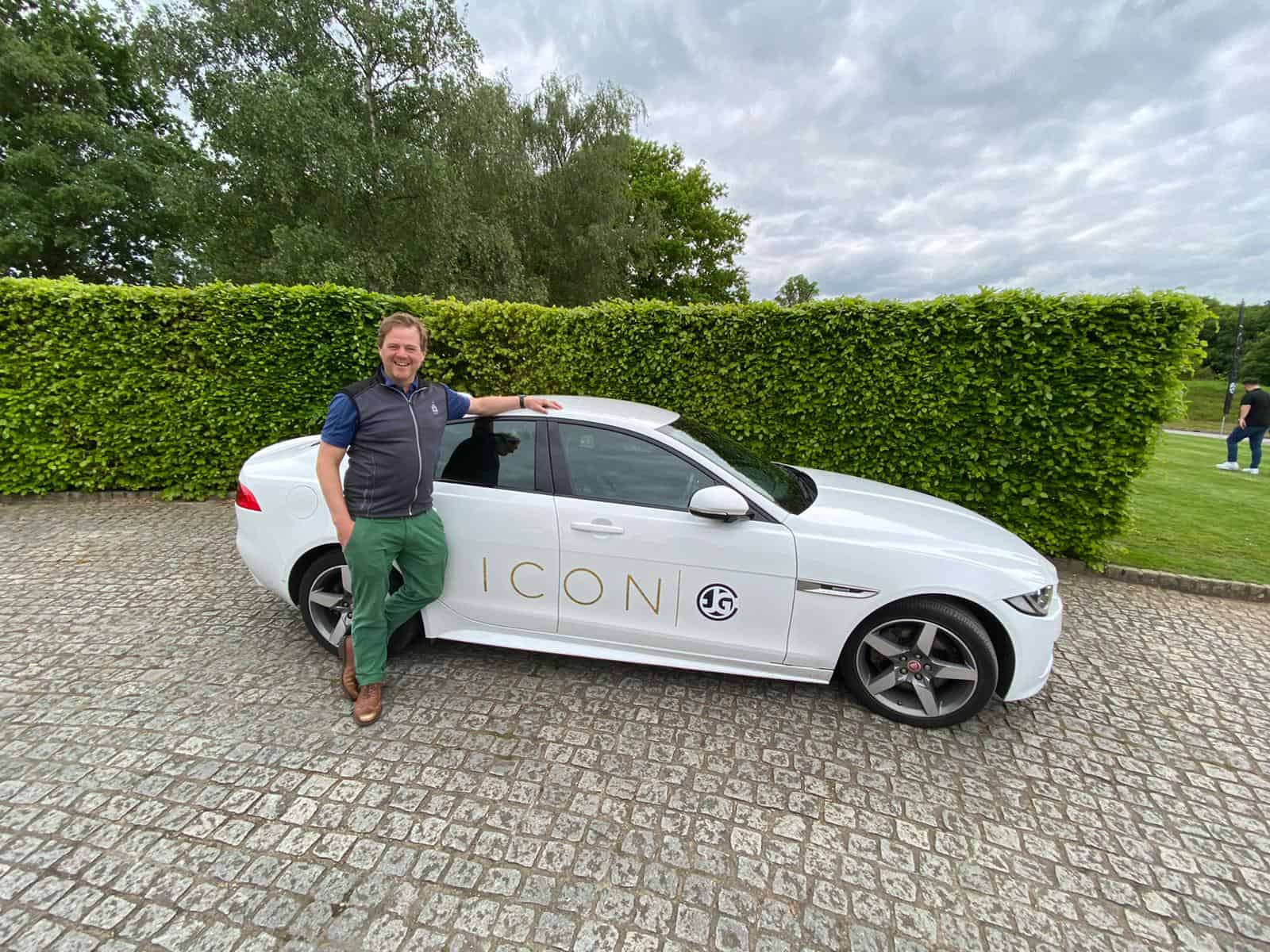 ---
The Grove
The Grove is home to one of the world's most scenic golf courses, situated within 300 acres of British countryside. It hosted the British Masters back in 2016 and was the scene of a 2006 World Golf Championship event, which was won by Tiger Woods.
Barack Obama has played at The Grove and he joins a long list of celebrities to have tried their hand on the course. The likes of Andy Cole, Chris Robshaw, Ryan Sidebottom, Danny Mills, Matt Prior, Mark Foster, Micky Hazard and DJ Spoony have all previously been guests at our ICON Golf Day.
As well as the championship golf course, The Grove is home to a luxury hotel, an award-winning spa, several state-of-the-art restaurants and a host of activities for guests of all ages.
The Grove is just a 20-minute train from London, followed by a short taxi ride from Watford Junction. It can also be accessed via mainline services from Birmingham New Street and Manchester Piccadilly.
Don't miss out next year
Our ICON Golf Day is always one of the best and most popular days in the Engage calendar. If you're joining us on the day we can't wait to see you there but if you're not, sadly all of the places for this year have been filled.
Luckily, our next event is just around the corner and there are still limited spaces for our ICON Golf Day in May. Plus, we'll be hosting another one in September 2024.
It truly is an unforgettable day so if it sounds like something you'd like to be a part of, don't hesitate to get in touch with bookings on 0207 048 4848 to reserve your place.
ICON Golf Days
The Grove
The Grove
ICON Golf Days
The Grove
The Grove
Wednesday 18 September 2024
No event found!