The Biggest Sporting Events in 2024!
Latest Events
Monday August 14, 2023

With the Olympic Games, European Championships, T20 Cricket World Cup and many more events scheduled for 2024, the biggest sporting events of next year look sure to be memorable…
Paris 2024: Summer Olympic and Paralympic Games
Undoubtedly one of the headline events of next summer, Paris has the luxury of hosting the 2024 Olympic Games.
Starting on 26th July, there will be a total of 35 venues hosting the Games, with several of them located inside 10km of the Olympic Village and the city's iconic landmarks.
There will be one new sport on the schedule too. Breaking, a competitive form of breakdancing, gained popularity at the Youth Games in 2018 and athletes will now be given their first shot at a place on the legendary Olympic podium at Paris 2024.
Twelve years on from London 2012, Great Britain's most successful athletes will be back on the bike, in the pool and on the track as they look to keep their sporting legacy alive during an unmissable summer of Olympic and Paralympic Games.
Euro 2024 to be held in Germany
All eyes will be on Germany next summer as they host the 2024 European Championships. The last edition of the Euros was one of the most memorable tournaments in recent history as Italy won their second title, leaving England heartbroken at Wembley in the final after extra time and penalties.
Knockout and group stage matches will be held across 10 different cities, including at Dortmund's Signal-Iduna-Park, Munich's Allianz Arena and the Olympiastadion in Berlin where the final will be held.
Can England finally get their hands on a major trophy for the first time in 58 years or will Mbappe be able to captain France to glory?
As the competition draws closer, England will also be facing Brazil and Belgium at Wembley, as Gareth Southgate will look to nail down his best eleven going into the summer.
The biggest competition in Europe is heading for an epic climax at Wembley Stadium in 2024.
Manchester City are currently European Champions after their historic treble winning campaign last season and they will be hoping to do the same again. They qualified easily from their group and will be going into the knockout stages confident of another deep run.
Pep Guardiola's side are the favourites to retain their trophy but 13-time winners Real Madrid will also be standing in their way, as well as Spanish giants Barcelona, domestic rivals Arsenal and Ligue 1 champions PSG despite the departure of Lionel Messi in the summer.
German champions Bayern Munich beat Borussia Dortmund in an all-German affair last time the final was held at Wembley thanks to a dramatic late winner – and they will both be looking to make it to London again in 2024 for a final that promises to be a showstopping conclusion to the season.
West Indies and USA host the T20 World Cup
Fresh off the hype of an Ashes series for the ages and a World Cup to follow in India this year, the relentless cricket calendar will roll on again next year with the 2024 T20 World Cup the standout event of the summer.
For the first time ever World Cup matches will be played in the USA who will be hosting the tournament next June after they were successful in a joint bid with the West Indies.
The usual suspects India, Australia and Pakistan will all be well placed with their star-studded line-ups, while England will go into the tournament as defending champions after Jos Buttler's side won a thrilling final in 2022.
Taking place in June, the world's best players will converge on the West Indies and USA straight from the conclusion of the IPL. Then following the events of the final at the end of the month, England's stars will quickly turn their attention to red ball series' against West Indies and Sri Lanka back at home.
Cricket fans will be spoilt for choice yet again in 2024, here are key dates for your diary…
22-30 May – England v Pakistan four-match T20 Series
4-30 June – T20 World Cup (West Indies and USA)
10-30 July – England v West Indies three-match Test Series
21 Aug – 10 Sept – England v Sri Lanka three-match Test Series
11-15 Sept – England v Australia three-match T20 Series
19-29 Sept – England v Australia five-match ODI Series
Once again, NFL London was a huge success in 2023, with memorable matches taking place at both Wembley and Tottenham Hotspur Stadium. Jacksonville Jaguars made London their home once again, with two victories in their two matches in the capital.
In 2024, NFL is confirmed to be coming to London yet again. In 2022, Jacksnville Jaguars confirmed they will be using Wembley as their home ground for at least three more years, meaning 2024 is the last year of this deal, with the potential of more to come.
The Tottenham Hotspur Stadium is a brilliant ground made for NFL and it will also continue to host at least two regular season matches a seaason for the forseeable future.
Enquire now and you can secure your place for NFL London 2024.
When the Formula 1 calendar gets released, there are a select few events that jump off the page – the British Grand Prix is one of those. With an atmosphere unlike any other, the Grand Prix at Silverstone always promises to be an incredible and unpredictable weekend of racing.
Max Verstappen stamped his dominance on the race in 2023 and extended his lead within the drivers' championship with his eighth win of the season at Silverstone – ahead of British stars Lando Norris and Lewis Hamilton.
Sticking with tradition, the British GP will take place within the first weekend of July in 2024 despite some changes to the schedule in Formula 1's attempt to make the season more regionalised and cut down on unnecessary travelling to events.
Did you know at Engage we cover all the overseas Grand Prix? Join us at our world-class ICON hospitality at Silverstone or travel to see the racing in Monaco, Singapore, Las Vegas and more in 2024!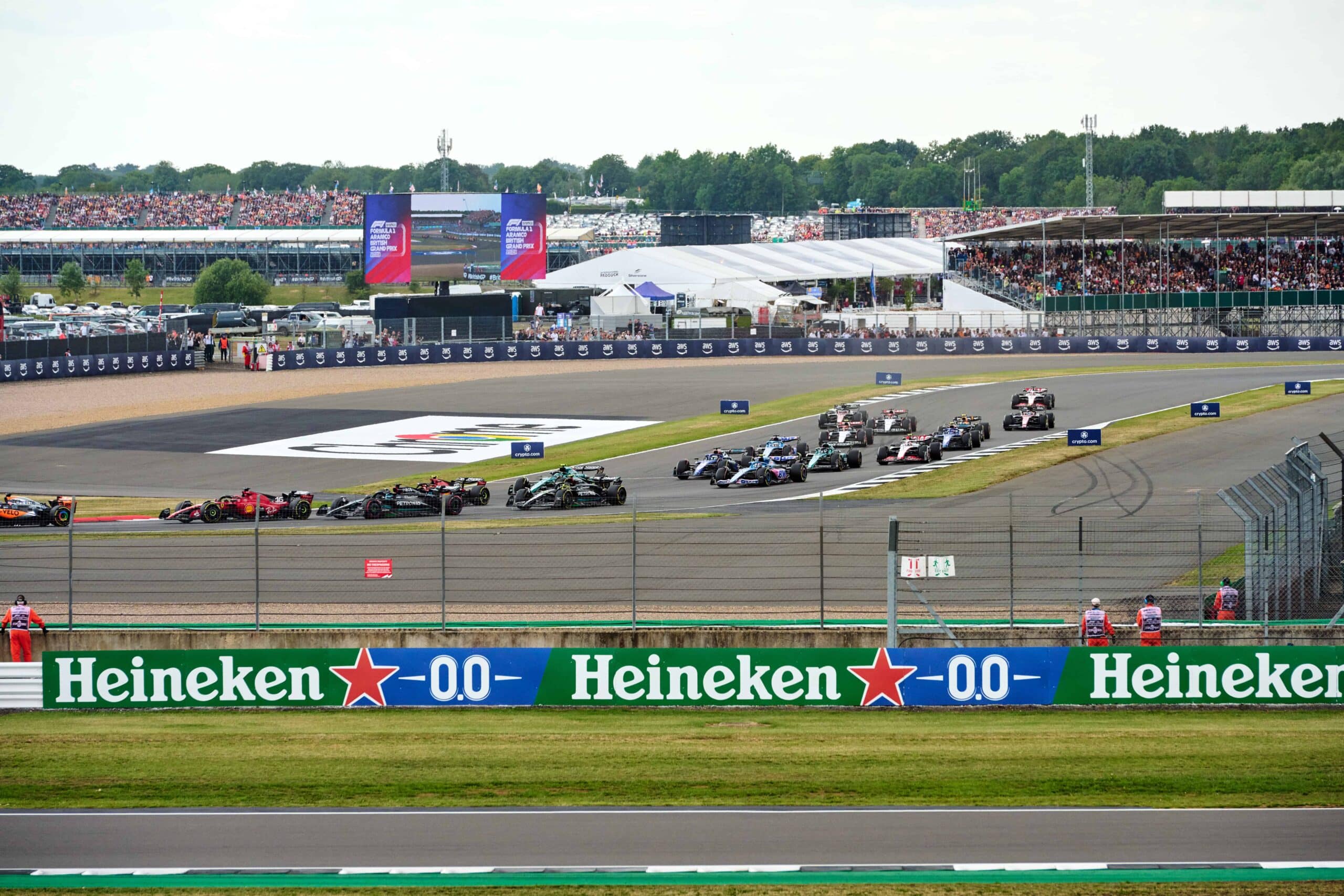 A new era is dawning at Wimbledon
In 2023, 20-year-old Carlos Alcaraz put an end to Novak Djokovic's reign as Wimbledon champion in a trilling five set victory on centre court. Along with Federer's retirement in 2022 and Rafael Nadal now in the twilight of his career, the guard is beginning to change in the race for Grand Slam titles on the tour.
The Australian Open will kick start the events on the tour in 2024 with Djokovic aiming to win his fifth title at Melbourne Park within the space of six years.
Then following the French Open in May, the grass court season get underway at the cinch Championships and The Boodles, before the best players in the world try to get their hands on the famous Wimbledon trophy.
Reigning champions Carlos Alcaraz and Markéta Vondroušová will enter the tournament full of confidence, but Djokovic will be after revenge and the next generation will be chasing them down too as they look to prove they have what it takes to make their mark at one of the most prestigious events on the tour.
All Posts