Why is Boxing Day football so special?
Football
Monday December 19, 2022

Throw the chaos of the World Cup into the mix, and this year's festive period is guaranteed to be Box Office!
The Premier League returns on Boxing Day, with many star players unseasonably tanned for the winter fixtures ahead following the World Cup in Qatar.
By the 26th of December, six weeks will have passed since the previous round of PL matches – it almost feels like we are starting the season all over again.
As things stand, Arsenal are leading the way on 37pts, with Man City 5pts behind. Newcastle and Tottenham make up the rest of the top 4 with United in 5th, Liverpool 6th and Chelsea all the way down in 8th.

Icon
Chelsea Hospitality
Saturday 2 December 2023

Icon
Chelsea Hospitality
Saturday 16 December 2023

Icon
Carabao Cup
Tuesday 19 December 2023
No event found!
It bodes well for Arsenal fans, the team top at Christmas has won the title 10 of the last 13 seasons.
At the foot of the Premier League are Wolves on 10pts, with Southampton just 2pts above them. Both sides have changed their head coach during the winter break so they will be hoping to make the most of that new manager bounce as they chase down Nottingham Forest in 18th and Everton in 17th.
A lot can change in football in six weeks. Cristiano Ronaldo has left Man United after his tell-all interview with Piers Morgan on Talk TV. Gabriel Jesus, the man many have credited with Arsenal's resurgence in the Premier League, has picked up an injury whilst on World Cup duty with Brazil and will be out for three months.
All this and much more besides, the festive period will be even tougher to predict than normal, as players return with varying levels of match fitness depending on how many minutes they played in the World Cup.
However, there are several star players who did not participate in the World Cup at all, including Mohamed Salah of Liverpool, Martin Ødegaard of Arsenal and Erling Haaland of Man City, who already has 18 goals to his name and is well on track to break the Premier League record of 34 for a single season. If you thought he was good before, a well-rested Haaland may be a different beast altogether.
Harry Kane on the other hand, who needs one goal to break Robbie Fowler's record of nine PL goals on Boxing Day, will return to the Premier League far from rested after leading England to the quarter-finals before missing a decisive penalty.
The impact psychologically as well as physically will be interesting to observe, as the prospect of newly-crowned World Cup winners mixing with losers adds a potentially divisive dimension to dressing rooms up and down the country.
Nonetheless, there is something undeniably special about Boxing Day football, and its tendency to throw up crazy score lines and shock results. The World Cup only serves to add to the unpredictability factor and thus the entertainment value of festive football.
---
Festive Football on Christmas Day
Festive football has been a constant of English football since the early days of the FA in the 1860s. Legislation allowed matches to commence on Bank Holidays, and up until the 1950s, some matches were even played on Christmas Day. The matches were well-attended at first, especially in the Victorian era, when being amongst a packed crowd at a football game was favourable to freezing at home. However, by the 1960s, Boxing Day emerged as the key footballing date, as interest in Christmas Day football dwindled.
So, contrary to what Jurgen Klopp and Pep Guardiola might bemoan, festive football is not necessarily the brainchild of broadcasters like Sky and BT.
Another reason why Boxing Day football is so beloved is that they are a safe guarantee of goals and upsets. The most famous example of this was in 1963 when a total of 66 goals were scored across 10 Division One matches. Fulham beat Ipswich 10-1, West Ham lost to Blackburn 8-2 and Man United were defeated by Burnley 6-1.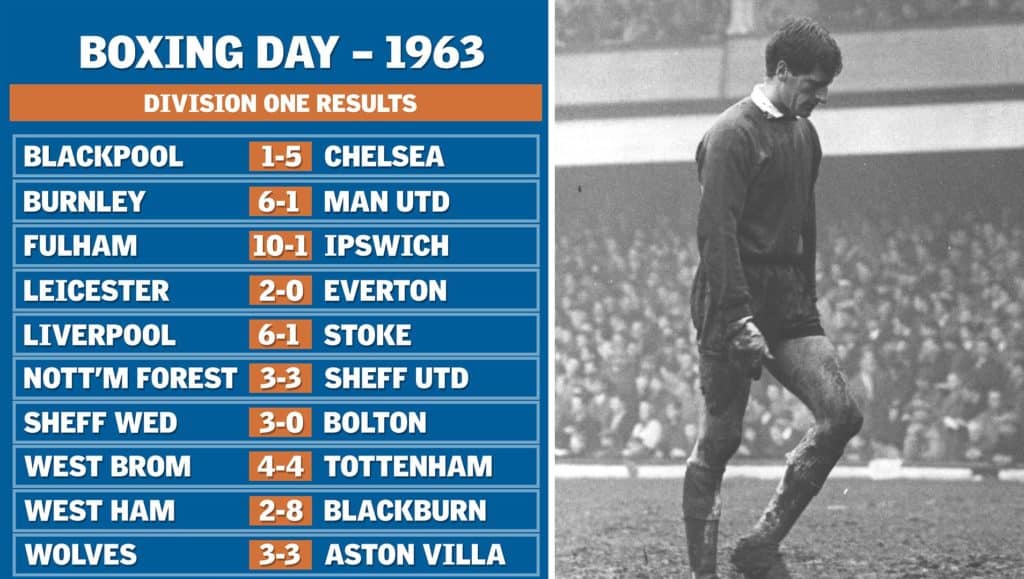 Even last year's round of fixtures produced a glut of goals; Man City beat Leicester City 6-3 and Southampton beat West Ham 3-2.
---
Boxing Day Fixtures to look out for
Among the standout fixtures on Boxing Day is Aston Villa v Liverpool, which will see new Villa boss Unai Emery put to the test against a Liverpool team looking to reassert themselves in the push for Champions League football. Meanwhile, Arsenal host West Ham in a London derby as they look to carry on from where they left off in the title race, albeit without the injured Gabriel Jesus.
On December 28, boyhood Leeds United fan Erling Haaland travels to Elland Road with Man City and on January 4 Southampton plays Nottingham Forest in a relegation six-pointer.
If the current rate of scoring continues, the 2022/23 season will have the most goals of any 38-match PL campaign in history (1091), the record is 1072. Throw the chaos of the World Cup into the mix, and this year's festive period is guaranteed to be Box Office!
---
Boxing Day
12:30 – Brentford v Tottenham (Prime Video)
15:00 – Crystal Palace v Fulham (Prime Video)
15:00 – Everton v Fulham (Prime Video)
15:00 – Southampton v Brighton (Prime Video)
15:00 – Leicester v Newcastle (Prime Video)
17:30 – Aston Villa v Liverpool (Prime Video)
20:00 – Arsenal v West Ham (Prime Video)
---
December 27
17:30 – Chelsea v Bournemouth (Prime Video)
20:00 – Manchester United v Nottingham Forest (Prime Video)
---
December 28
20:00 – Leeds v Manchester City (Prime Video)
---
December 30
19:45 – West Ham v Brentford
20:00 – Liverpool v Leicester (Sky Sports)
---
New Year's Eve
12:30 – Wolves v Manchester United (BT Sport)
15:00 – Bournemouth v Crystal Palace
15:00 – Fulham v Southampton
15:00 – Manchester City v Everton
15:00 – Newcastle v Leeds United
17:30 – Brighton v Arsenal (Sky Sports)
---
New Year's Day
14:00 – Tottenham v Aston Villa (Sky Sports)
16:30 – Nottingham Forest v Chelsea (Sky Sports)
---
January 2
17:30 – Brentford v Liverpool (Sky Sports)
---
January 3
19:45 – Everton v Brighton
19:45 – Leicester v Fulham
20:00 – Arsenal v Newcastle (Sky Sports)
20:00 – Manchester United v Bournemouth
---
January 4
19:30 – Southampton v Nottingham Forest
19:45 – Leeds v West Ham
20:00 – Aston Villa v Wolves
20:00 – Crystal Palace v Tottenham (Sky Sports)
---
January 5
20:00 – Chelsea v Manchester City (Sky Sports)
All Posts