Standout players to watch during the Summer Nation Series
Rugby
Wednesday August 2, 2023

The biggest competition in international rugby is nearly upon us. With just over a month until the top twenty teams in the world touch down in France for start of the 2023 Rugby World Cup on the 8th September, nations will be put through intense training camps and a Summer Nation Series to prepare for the tournament.
With some of the home nations going head-to-head in front of packed crowds at Twickenham, the Principality Stadium and the Aviva Stadium, here are some exciting names to keep an eye on during the warm-up matches who could make the difference for their nations in September…
Harry Arundell – England
England have been on a rocky ride since they reached the final of the World Cup four years ago in Japan. After a run of poor form and disappointing Six Nations campaigns, they parted ways with Eddie Jones in December but have still been searching for their identity under new head coach Steve Borthwick.
However Harry Arundell, Premiership Rugby's young player of the season in 2022, is one England's young stars giving fans hope of a bright future.
Now playing for Racing 92 in France, the 20-year-old broke onto the scene at London Irish in the Rugby Premiership, scoring a collection of breath-taking individual tries which earnt him a place in the England squad for their tour of Australia last summer where he went on to score with his first touch in international rugby.
Primarily a full-back, Arundell will have to compete with another young talent in Leicester Tiger's Freddie Steward or with England's experience on the wing if he is to make an impact this autumn at the World Cup. But expect fireworks if he is able to find his place in Steve Borthwick's plans during this August's Summer Nations Series.
Marcus Smith – England
Since taking over as head coach of the English side in December, Steve Borthwick has been faced with the same selection conundrum that Eddie Jones was faced with at the back end of his tenure – how do you fit Owen Farrell and Marcus Smith in the same team?
Finishing an underwhelming fourth in the Six Nations this spring, Borthwick is also yet to crack the puzzle and it's a debate that is bound to be brought to the surface once again during England's warm up fixtures this month.
One thing that is indisputable though is that Marcus Smith can be the future of English Rugby. The 24-year-old fly-half has the ability to orchestrate and win matches almost single-handedly as he's shown on a weekly basis with the Harlequins. Smith has also made his impact on the international stage with 21 caps, multiple Man of the Match awards and ending the 2022 Six Nations as the highest points scorer in the competition.
Whether he is paired alongside Farrell in the team or given the freedom by Borthwick to dictate matches like he has done so effectively at club level remains to be seen, and it is a big question that could be answered during England's Summer Nation Series preparation fixtures.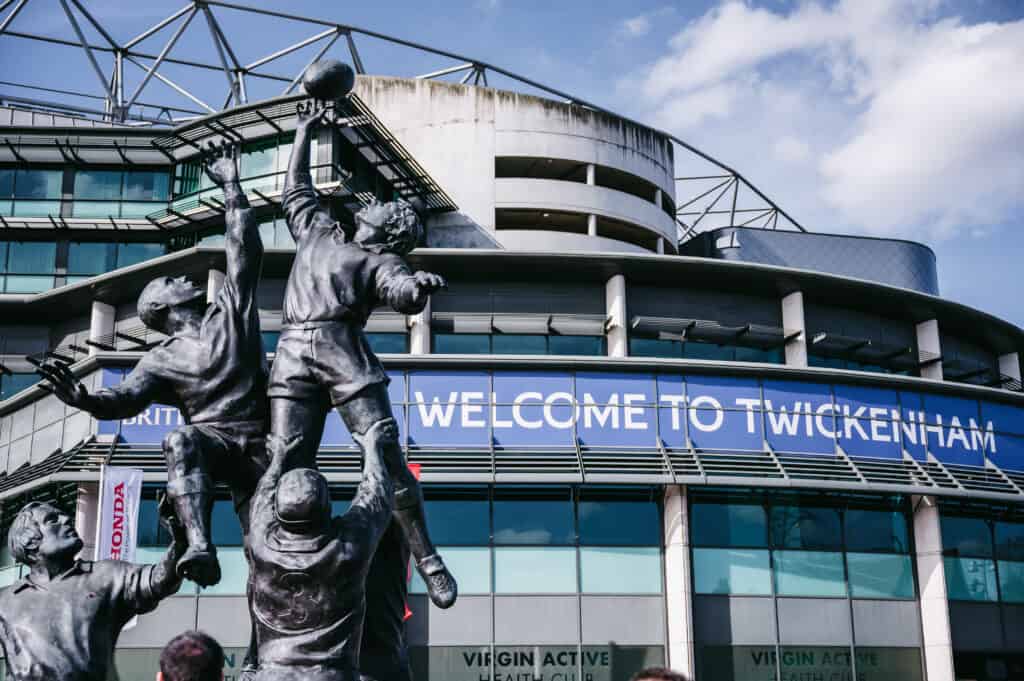 James Lowe – Ireland
Ireland will head to France in September as one of the favourites to reach the final. In the Autumn International Fixtures last year they defeated current world champions South Africa and Australia before they secured the fourth Grand Slam in their history as they beat the rest of their rivals to win the 2023 Six Nations Championship in March.
Winger James Lowe was an ever present figure on their way to the historic achievement. After experiencing a reasonably quiet start to his rugby career, Lowe has made up for a slow start since making his debut for Ireland three years ago. He played a vital role in Ireland's international triumphs, including finishing as their top try scorer in each of the last two editions of the Six Nations.
If Ireland are to become the second team from the Northern Hemisphere to become world champions, Lowe and the rest of the back three in Hugo Kennan and Mack Hansen rather pick themselves for the squad and could be the key names for them yet again when they look to land a blow against England in their Summer Nation Series fixture at the Aviva Stadium on Saturday 19 August.
Louis Rees-Zammit – Wales
Like England, Wales are also in the midst of a tough transitioning period ahead of the World Cup. Alun Wyn Jones – star of Wales' Six Nations wins in 2019 and 2021 as well as their run to the World Cup semi finals in Japan – recently announced his retirement from international rugby.
As they look to transition to a younger team, players like Louis Rees-Zammit will be key for Wales and their best chance of matching their impressive run deep into the knockout phase four year ago. The 22 year-old winger – who plays for Gloucester in the Premiership – believes his best is yet to come having already made 25 appearances for Wales and becoming the youngest player to be selected by the British & Irish Lions in 62 years back in 2021.
Wales face two major challenges during their Summer Nation Series against England. The double header at the Principality Stadium and Twickenham Stadium will be important tests for both sides and a chance to gain some much-needed confidence before the group stages.
With young names such as Harry Arundell, Marcus Smith and Louis Rees-Zammit searching for career defining performances ahead of the 2023 World Cup, the stage is set for an incredible few months of international rugby.
All Posts