Jonnie Irwin cherishes 'highlight of the summer' with Engage
Cricket
Friday September 15, 2023

We were delighted to see British TV presenter Jonnie Irwin enjoying his day out within our hospitality facility at the Kia Oval this week whilst he continues to bravely battle terminal cancer.
The beloved presenter rose to fame when he was selected to host Channel 4s 'A Place in the Sun' and has been a staple on our TV sets ever since when working with the BBC to present episodes of 'Escape to the Country' and 'To Buy or Not To Buy.'
However, for the last few years Irwin has been heroically battling terminal cancer in his lungs, admitting on Instagram recently that he been feeling pretty unwell this summer.
Determined to make the most of his experiences, Irwin looked in good health whilst thoroughly enjoying his day out at the cricket alongside friend and former domestic cricketer Ryan Sidebottom at the Kia Oval.
Joining us in within our Live hospitality, Irwin watched on in the warm September sunshine as Ben Stokes put on a batting masterclass to hit a record ODI score.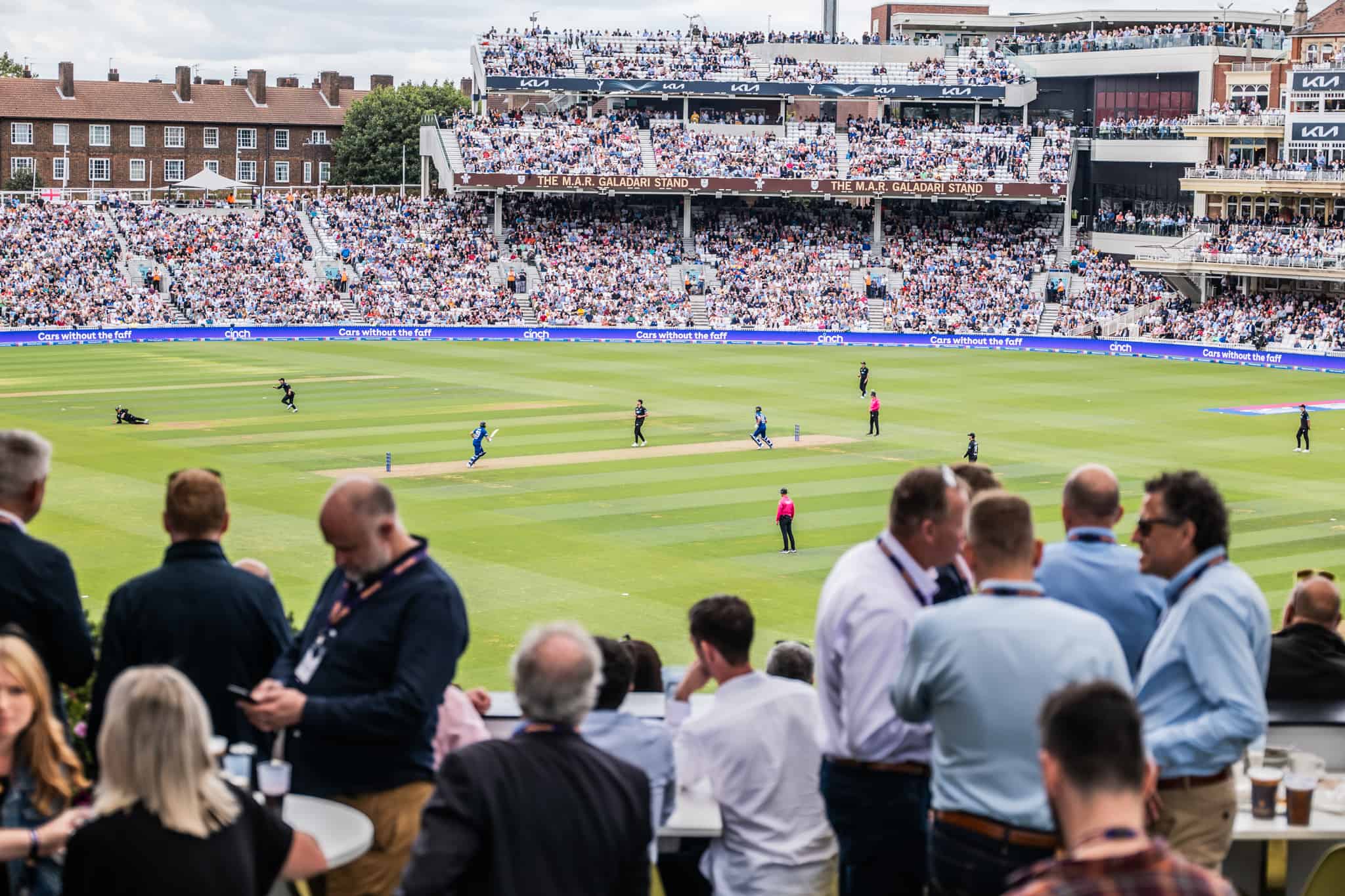 Heading into the fixture the ODI series was evenly poised at 1-1, and the day looked like it was going to be a long one for England fans after Jonny Bairstow was removed after the first ball.
The hosts were able to recover though through an impressive partnership between Dawid Malan and Ben Stokes, with the latter going on to make England's highest ODI score after a mesmerising knock of 182 runs. The skipper Jos Buttler added a further 38 to take his side into a commanding position which eventually saw them win by a mammoth 181 runs on a beautiful day in London.
Commenting on Instagram after the match, the presenter wrote: "Had the best day in awesome company thanks to @ryansidebottom_official and @engagegroup_uk who made the whole experience a massive highlight of my summer."
Throughout the day we were also joined by other famous faces within our hospitality facility, including the ICC's number one World Test Batsman, Kane Williamson, who happily mingled and took pictures with guests whilst he continues to recover from a knee injury.
At Engage we are thrilled that Jonnie Irwin cherished his experience with us at the cricket and, like everyone connected with him, are inspired by the way continues to approach his own personal battle.
All Posts