FA Cup Final Preview and How it Happened
Latest Events
Monday July 25, 2022

The FA Cup is regarded as magical by football fans up and down the country and over the years has provided moments that many fans will never forget. This year's FA cup has been no different, as we head into the Final at the home of English football, Wembley.
The FA Cup is the oldest Football competition in the world, founded in 1871 it has been going for 151 years.
Much Anticipated Round 3
The Premier League teams entered the fray in round three. There were no upsets for Manchester City who dispatched League two Swindon 4-1. Liverpool replicated that score line against a shy Shrewsbury Town. The goals were flying in for the Premier League sides as Chelsea ran riot against Chesterfield, knocking them out of the cup.
Fans flock from corner to corner of the country to see their teams try to go on a cup journey. One set of fans who did not have far to travel were Crystal Palace. Palace made the short trip across South London where they faced Millwall in a London derby. After a tentative start Crystal Palace powered past a hostile Millwall and booked their place in the 4th round.
For many of the lower league teams, the FA Cup is a chance to play teams they may never usually face and likewise for the teams at the top end of the footballing pyramid. The biggest shock of the third round happened at St James' Park. Newly owned Newcastle United faltered against League One's Cambridge United. Results like this is what make the FA Cup so special to many.
There were a couple of other third round shock exits as 14-time winners of the competition, Arsenal fell short against Nottingham Forest. Everyone likes to see the underdogs do well in the FA Cup. This year's underdogs were Boreham Wood of the National League. They picked apart a struggling Wimbledon side to progress to round four after being in the competition since round one.
Giant Killing
February rolled around and we had the pleasure of more FA Cup action. If teams can get past this round, then Wembley would start to be on the mind of many fans and the 'what if' conversations start to be had.
Manchester United have won the FA Cup on 12 occasions and were looking to do well in the competition as they haven't had much success of late in other competitions. They had a home fixture against Championship side Middlesborough. A tense game went to extra time, where the deadlock was still not broken. Penalties was to be the decider. A defiant Middlesborough beat Manchester United 8-7 on penalties, and they put themselves in the hat for the next round.
Another Premier League heavyweight were put under pressure in round four. Plymouth made the trip up to London from the South Coast to Stamford Bridge. A defiant Plymouth pushed the European Champions to extra time. Unfortunately for Plymouth, Chelsea's quality showed as they scored in extra time knocking Plymouth out. Last year's champions Leicester were stunned as Nottingham Forest dismantled them, winning 4-1, beating another Premier League side.
Premier League top dogs Liverpool and Manchester City yet again cruised into the next round with convincing wins against Cardiff and Fulham.
The shocks did not let up in round five. Most notably in the Middlesborough v Tottenham Hotspur fixture. Middlesborough found themselves a winner late in extra time. Tottenham's miserable wait for a trophy continued.
Boreham wood's magical journey also came to an end in the fifth round losing to Everton. Liverpool kept their hopes alive with a narrow win at home to Norwich with rivals Man City winning away at Peterborough.
The Business End
The business end was approaching with the Quarter Final draw done. Some of the big hitters were still in the hat. In form forest hosted Liverpool which was a cagey affair. Liverpool prevailed triumphant with a 1-0 victory. Crystal Palace, who's last trip to Wembley was six years ago hosted Everton. Crystal Palace got off to a slow start, but their quality shined through and ended up beating the toffees 4-1. This sent the Palace faithful into pandemonium, they were on their way to Wembley.
The Semi Final draw was made up of Liverpool, Man City, Chelsea and Crystal Palace. The draw was watched by many with anticipation. Chelsea drew Crystal Palace with Liverpool and City drawing each other in what was a massive fixture.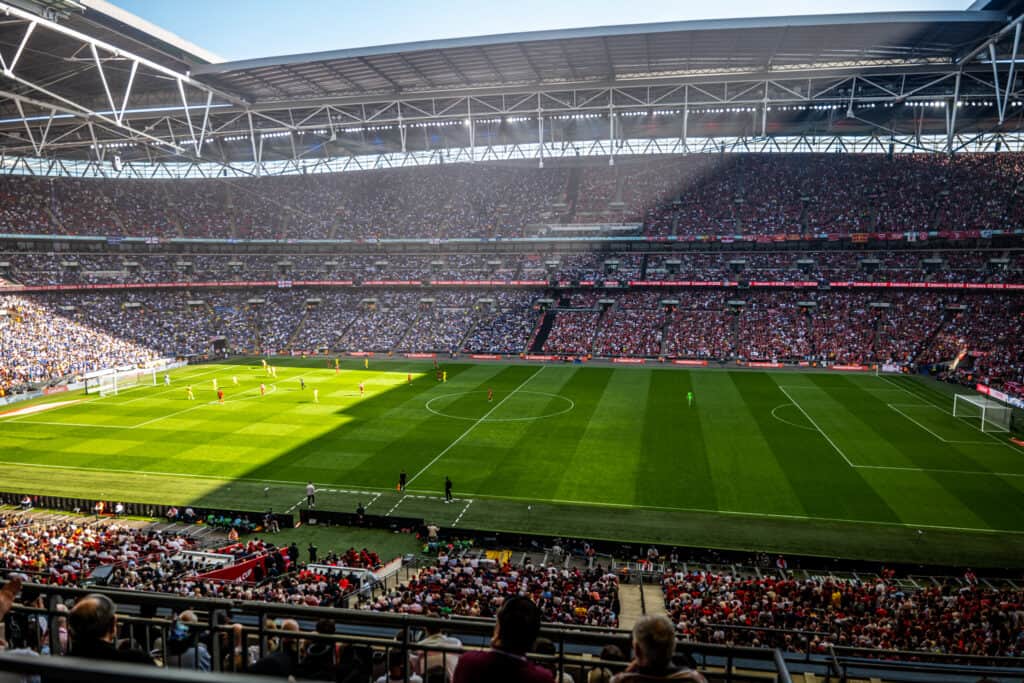 Wembley beckoned, Liverpool v City was first up. Liverpool got off to a flyer with an early goal. From there City never looked to be in the driving seat. With goals from Konate and a stunning brace from Mane, Liverpool were 3-0 up at half time. City fought back after half time with a Grealish goal and a late strike from Bernardo Silva, however it was not to be enough against a resolute Liverpool side.
The other semi-final saw Chelsea play Crystal Palace. With a raging atmosphere the players took to a sunny Wembley. Nothing separated the sides in the first half with chances for both teams. The game approached the later stages and Chelsea showed their quality with two goals in short succession. Palace hearts were broken.
This made the match up for the Final. Liverpool play Chelsea this weekend at Wembley for what will surely be one of the games of the season. Chelsea will be looking for their revenge after losing to Liverpool on penalties in the Carabao Cup Final. Who will you be backing?
Join us at Wembley
As official hospitality partners with Wembley we have lot's of great events coming up there. From Football, NFL, concerts and many more. Click here to take a look at everything we have at this iconic stadium.
All Posts